WP Limit Posts Automatically
2007-12-03 @ 17:00

Is there a way to limit posts in WordPress? You can always use the more-tag and if you use it you can manually insert a break-point to cut your posts where you like. What if you want to do it automatically? Then this plugin is the answer. You can choose where it should limit your posts (home, category, archive and search). You also have some other features, for example to choose the limit method (cut by letter, word or paragraph).
Screenshots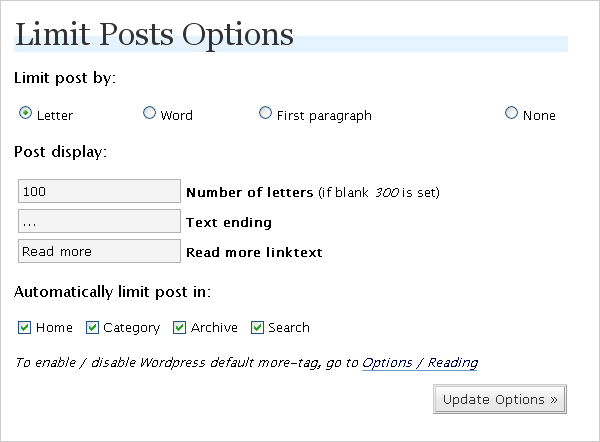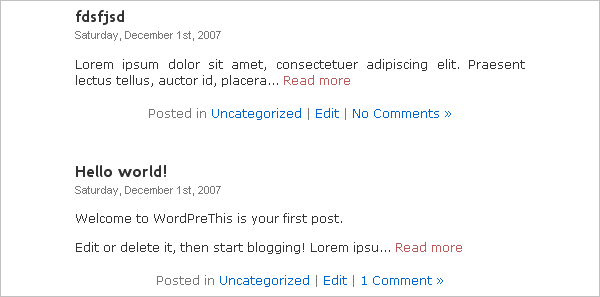 Install
Upload wp-limit-posts-automatically.php to the
/wp-content/plugins/wp-limit-posts-automatically directory.
Activate the plugin WP Limit Posts Automatically through the 'Plugins' menu in WordPress.
Go to 'Options / Limit Posts Options' for options and more instructions.
History
Why did I make this? I almost always forgot to put a more-tag into my posts and at first I created some quick fix for it at my own website. At the time I didn't found any good plugin for it. I still havn't found the perfect plugin for this so I created my own.
Updates 0.7
Updated with a new option, "strip tags" to avoid code errors when cut through letter or word.
Added a little usage section
Updates 0.5
Fixed bug with paragraph tag sometimes ended incorrectly (because of the cut).
Updates 0.4
Fixed bug with ajax category problem.
Fix collision to WP YouTube plugin
Contribute / Feedback
The best way to contribute is to spread the word, link to this page or give me feedback. All kinds of feedback are helpful to me. Have you tested this plugin on another WordPress-version and can confirm that it works? Let me know. Suggestions and bug report are also welcome.