WordPress smilies icon-pack – Free download
2007-09-02 @ 21:20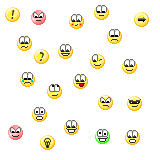 WordPress smilies icon-pack seems to be rare on the net. Here I present my own collection of smilies, designed to be used in WordPress 2. Smilies are as default presented when people comment the posts.
The difference between my smilies and the ones in WordPress as default, is that my smilies are a bit softer and have bigger eyes.
Here is a preview of what they looks like:
To install the smilies into wordpress, unzip the ZIP-file into the wordpress folder: wp-includes/images/smilies
Done!